If you've worked out in City Fitness's beautiful East Market location, you've likely spotted one of its crown jewels: the Queenax, AKA a full-blown adult jungle gym. Yep: It's pretty sweet. 
But if you've looked at it and been stumped on, um, how to actually use it (hey, gymtimidation happens to the best of us), this full-body Queenax workout, created by WE/FIT director Jon Lyons, will get you started.
---
Try the Queenax in a group setting with expert coaches during a WE/FIT session. The first one is on us.
---
This workout embraces the versatility of the Queenax, employing TRX suspension straps, the Superfunctional suspension training bar, and the Strong++ pulley system. It's anything but boring and can be tailored to fitness levels ranging from beginner to advanced. So pencil your next visit to East Market into your calendar, and bookmark the workout below for when the day comes!
The Adult Jungle Gym Workout
Directions: Do Circuit 1, then Circuit 2, then the Burnout. 
For Circuit 1, perform the exercises (1A, 1B, and 1C) in order, resting for 45-60 seconds between sets. That's 1 round. Perform 3 rounds total. 
Repeat for Circuit 2. 
Then complete the Burnout. Perform exercise 3A for 20 seconds, then rest 10 seconds. Perform exercise 3B for 20 seconds, then rest 10 seconds. That's 1 round. Do 8 rounds.
---
CIRCUIT 1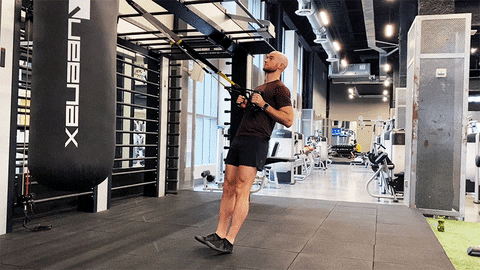 1A. TRX Row, 8 to 10 reps
Adjust the TRX straps to mid-length, with the yellow "TRX" tag situated halfway down the strap. Grab both handles of the straps and let your weight fall backward until your arms are fully extended and you are supporting yourself on your heels. While squeezing your glutes and engaging your core, pull yourself up until your thumbs hit the sides of your rib cage. Slowly lower yourself back to your starting position. That's one rep. You can adjust the difficulty of the exercise by walking your feet away from you (more difficult), or by walking your feet toward you (less difficult).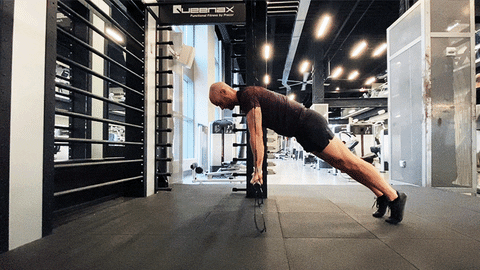 1B. Superfunctional Bar Pushup, 8 to 10 reps
Set the height of the Superfunctional Bar towards the bottom of the straps. Grip the bar with your hands slightly wider than shoulder-width apart and step back into a plank position, bracing your core. Do a pushup, making sure to keep your arms pulled in tight to your body and keeping your hips aligned with your body. Walk your feet in or out to adjust the difficulty level.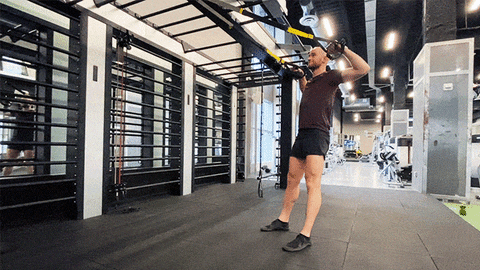 1C. TRX Squat and High Row, 8 to 10 reps 
Hold onto the TRX straps with your arms fully extended and lower into a squat position with your knees above your ankles. Keeping your weight in your heels, push yourself up to standing in a leaning plank position, using the TRX to assist you. Once you're at the top of the movement, pull yourself in toward the TRX, keeping your elbows wide, until your head is in line with your hands. Reverse the movement until you're back in a low squat. That's one rep.
---
CIRCUT 2
2A. Strong++ Single-Leg Deadlift, 8 to 10 reps on each side
Clip the handles on the bottom of the Strong++ to your desired resistance (tan is the lightest, red is medium and black is heaviest). Grab the Strong++ handle with both hands, extending your arms in front of your body. Stand on your left leg with your right leg raised and slightly bent. This is your starting position. 
Hinge forward at your hips, reaching forward with your arms, and letting your right leg lift behind you until it is as close to parallel to the ground as you can get. Squeezing your left glutes and hamstrings, pull yourself upright to the starting position. That's one rep. Complete 8 to 10 reps on one side, then repeat on the other side.
2B. Superfunctional Bar Pullup, 8 to 10 reps
Adjust the Superfunctional bar so that it's just about chin-height. Grab the bar and lower down until you are hanging, with your butt off the ground but your feet on the ground in front of you. This is your starting position. 
If you can, pull yourself up without using your legs to assist you. If you need assistance, use your legs to help lift you up until your chin clears the bar, as pictured. Hold for one second. Lower yourself down to the original position slowly for 3 seconds. Hold here for 2 seconds. That's one rep.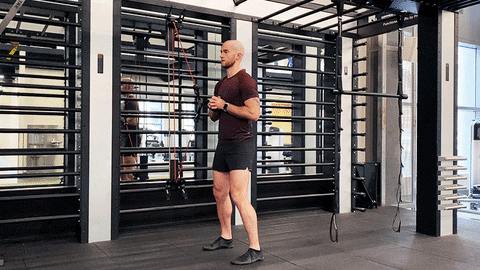 2C. Strong++ Paloff Press, 8 to 10 reps
Clip the Strong++ handles at chest-height. Standing firmly with your feet shoulder-width apart, clasp one handle with both hands and bring the handle to your heart. This is your starting position.
Take a big inhale through the nose, then press both hands out in front of your chest until your arms are fully extended and hold for an entire exhale. Once you've exhaled entirely, bring arms back to the starting position. That's one rep.
Tip: When doing this exercise, you should be exhaling so hard that your abs feel like they're on fire.
---
BURNOUT, 8 ROUNDS
3A. Battle Rope Slam, 20 seconds 
Grab the battle ropes in each hand and assume an athletic stance, half-squatting as though you're about to evade a tackle. In one fluid movement, explode upward, raising the ropes overhead—you might even rise to your tippy-toes—then immediately explode down, slamming the ropes into the ground.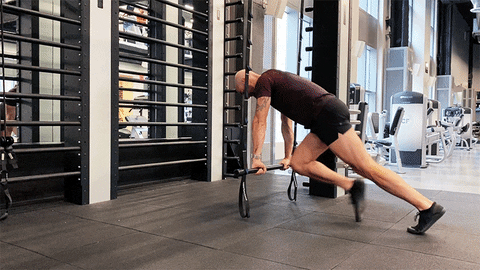 3B. Superfunctional Bar Mountain Climber, 20 seconds
Set the Superfunctional Bar to its lowest point and, like you did for the Superfunctional Bar pushups, assume a plank position. This is your starting position.
Drive one knee up to the bar, right between your hands, as quickly as possible. Return to the starting position and repeat with the alternate leg. Start to move through this alternating motion quickly and fluidly, as though you were running.
---
You Might Also Like: What To Do With 4 Pieces of Intimidating Gym Equipment
---